The purpose of strategic planning is to gain control of the future and the destiny of the organization. If your experience of strategic planning is developing a ream of paper full of tables and charts that then gets put in a drawer or on a shelf, never to be seen again, or if your experience is simply producing a long-range forecast of performance and calling it a plan, then you haven't done a "strategic" plan.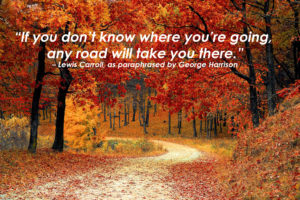 The four purposes of strategic planning are as follows:
Define or refine business strategy
Establish overall goals and objectives
Develop an action plan
Communicate direction to the organization
In previous articles we defined business strategy as a statement of where and how to compete based on an understanding of customer needs and the organization's core competencies. The strategic planning process is a context in which we understand those customer needs and those organizational core competencies. In examining these we are equipped to either define or refine the business strategy so that we might delineate the optimal path for achieving the organization's objectives. The destiny of the organization is dependent on identifying a path in which the organization can create value for its customers which then creates value for its stakeholders.
The strategic planning process provides a means for setting some long-term goals and objectives. These goals and objectives are set in the context of the long-term vision for the organization and serve as milestones or targets for the development of the organization. Sometimes setting these objectives is an iterative process as the organization considers the possible impact of various strategy alternatives. The next steps in the destiny of the organization is defined in these goals and objectives.
Setting a strategy is a call to action. The strategic planning process is a context for identifying the actions necessary to implement the business strategy and to reach for the objectives. The destiny of the organization requires a proactive set of actions if we wish to influence it.
The final purpose for the strategic plan is to communicate to the organization the future direction of the organization. The strategic plan sets the direction for every decision. Therefore every decision-maker needs to understand and buy into the plan. The destiny of the organization is dependent on marshalling the resources of the organization and investing them wisely towards shaping the future.
Is your planning strategic? Will it positively affect the destiny of your organization?